New Bacteria Linked To Lyme Disease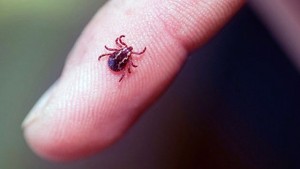 According to a U.S health agency, there is a new bacteria linked to Lyme disease in humans. The Center for Disease Control and Prevention worked along with the Mayo Clinic and found that the bacteria called Borellia mayonii may also contribute to Lyme disease.
Up until now the only bacteria known to be responsible for the contraction of Lyme disease by humans was Borellia burgdorferi the type contracted from black legged deer ticks. This new bacteria has only been found in the Upper Midwest region of the U.S. According to the CDC.
According to the CDC, researchers discovered Borellia mayonii after studying blood samples of patients who were suspected of having lyme disease in 2012 -2014. Six out of 9000 samples showed irregular results, which prompted a more thorough investigation.
The newly discovered bacteria is similar to Borellia burgdorferi in that it causes fever, headache, rash and neck pain and later arthritis associated with Lyme disease, the CDC said. However, Borellia mayonii adds nausea, vomiting, a widespread rash and causes a higher concentration of bacteria in the blood.
According to the CDC there are an estimated 300,000 cases of Lyme disease in the U.S. annually. The disease is rarely fatal and most patients recover after a few with antibiotic treatment. The 6 patients infected with the new bacteria were treated successfully with use of antibiotics used to treat Borellia burgdorferi.
Jeannine Petersen a microbiologist with the CDC states that "It is too early to say whether or not the new bacteria will be more or less dangerous than Borellia burgdorferi.". She claims that they have very limited information because they only tested six patients, they would require more patient testing in order to capture a full spectrum of those with less or more severe symptoms.
Petersen claims "It is likely a recently emerged organism", since it did not show up in previous extensive testing of blood samples of patients who are suspected of having Lyme disease.
(Visited 553 times, 1 visits today)